Happy New Year 2021 from JKPUMPS
Dear customers,colleague and friends from JKPUMPS:
Hope you all well during this difficult time and staying healthy.
We all know this year is hard for everybody,the fear caused by the global outbreak of the COVID-19 in this year has left a special mark on everyone.2020 will perhaps be the most unusual year for many of us.As we prepare for the holidays and to ring in the new year,we are thinking about all the people,the businesses and the industries that were affected by the pandemic.We have heard stories of loss and stories of success and resilience and our company and brands quickly adapt to the changing demands.
A different story this year although we all blessed to be safe and full of success and thanks for all our customers cooperation and trusting us in this past year,all our fantastic colleagues.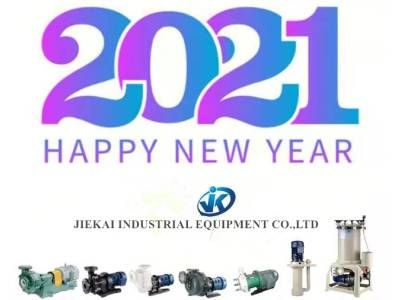 Today when we are looking back 2020, ,JKPUMPS feel proud to be part of the journey and the history we great.
1.Some launched pumps(Like magnetic drive pump-MG series,Self priming pump -MGS series) had evaluated in the chinese and international markets,happiness is receiving such feedback.
2.Ground breaking new manufacturer factory,name of"JIANGXI JIEKAI FLUID TRANSFER TECHNOLOGY CO.,LTD"
3.Online meeting installers and industrial customers at events ,technical support.
4.Old customers are from Russia,Malaysia and UK will add larger orders,they said"We can reply on the service of JK".
On the behalf of JIEKAI INDUSTRIAL EQUIPMENT CO.,LTD,we would like to say thanks for being a loyal customer.It has been a pleasure serving you and supplying you with our company products and we hope look forward to strengthening us connections with you in 2021.
JK is committed to providing our customers with only the highest quality of pumps ,chemical filter and plating rectifier delivered through impeccable customers service;We believe in quality& higher technical,always a step ahead towards customer satisfaction.
JKPUMPS wishing everyone the very best and happy holidays.
If you are looking for a reliable partnership with speed in delivery,technical support and partnership,please contact us.