What is precious metal plating rectifier?
JK TECHNOLOGOES has been manufacturing high quality line of metal finishing for plating rectifier more than 20 years experience;
This high frequency electroplating power supply is mainly used for the electroplating of precious metals such as gold, silver, titanium, tungsten, molybdenum, ruthenium, and zirconium. Whether it is thick plating or throwing plating, this rectifier can definitely reflect the greatest advantage of saving materials; at the same time, the surface flatness and smoothness are 2 levels higher than other system power supply.
All rectifiers are rated for continuous operation in air cooling or water cooling.
This high-frequency electroplating power supply is the best among low-power electroplating power supplies. The biggest feature is its complete functions. It has stable voltage and current conversion, manual and automatic conversion, time alarm, temperature control, filter control, swing machine control, etc. Additional functions can be described as "full-featured", so the sales volume is very good, it is a representative work of low-power electroplating power.
The superiority of pulse power supply plating can be better reflected especially on gold plating. Pulse power supply gold plating could obtain dense crystal electroplating layer coating, that not only significantly increased its finish degree, corrosion resistance, weldability, wear resistance, high temperature capability and have a greater degree of discoloration, but also greatly saved gold.
What are application industry of rectifier?
The precious metal electroplating rectifier is an electroplating machine, mainly used for the electroplating of precious metals such as gold, silver, titanium, tungsten, molybdenum, ruthenium, zirconium, etc.
Features:
1. High stability: the system has fast strain rate, strong adaptability to the changes of power grid and load, and the output accuracy is up to 1%.
2. Good technical effect: Using German patented technology, the current density is greatly increased, the plating speed is faster, the workpiece coating is denser, smoother, more wear-resistant, and metal materials and additives are saved.
3. Ultra-high power design: to ensure that customers in all environments can be fully loaded, continuous work.
4. High reliability: The use of high-quality imported devices, and international patented technology products, complete protection, isolation and anti-corrosion measures are excellent.
5,Maintenance is simple: The circuit adopts plug design of computer circuit, which is intuitive and convenient to maintain. Ordinary electricians can complete maintenance and maintenance.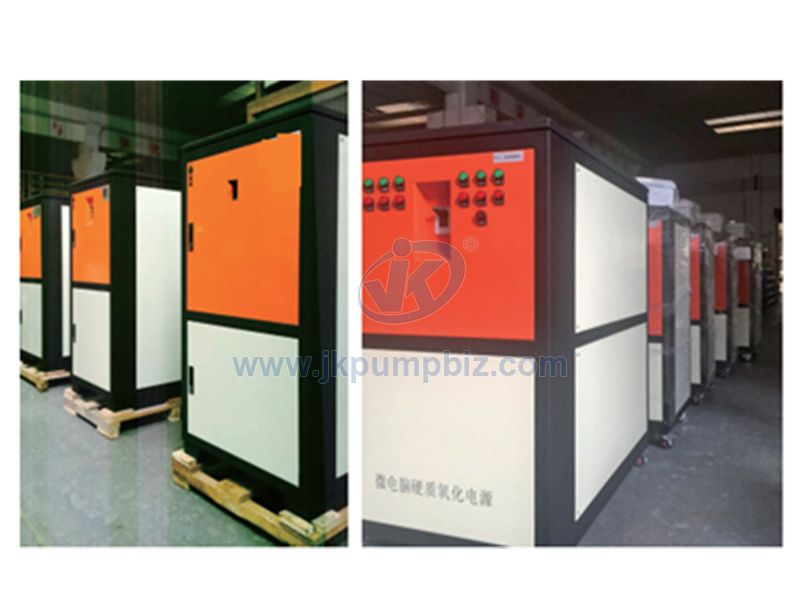 Indicator parameter output:
Input voltage:AC380/220V±10%、50HZ/60HZ
Output voltage:0-6V、0-10、0-12V、0-15V、0-24V、0-36V(Adjustable)
Output current:0-500A、0-750A、0-1000A,0-1500A、0-2000A、0-3000A,0-4000A、0-5000A,0-6000A,0-8000A (Adjustable)
Adjustment method: Analog stepless adjustment;
Output display: digital voltage and current meter display (integration of display operation and main body)
Output waveform: 30KHZ DC square wave
Output Interface:4-20MA,0-10V,0-5V(specify when ordering);
Operating environment:-15~40℃
Storage temperature;-20~50℃
Control precision∶≤1%
Insulation resistance:≥5MQ
Outsulation resistance:≥5MQ
Input/Output—Chassis∶25MQ;
Insulation strength input-output: AC1500V, 10mA, 1 minute;
Insulation grade:B Class
Protection level:IP20
Cooling system:Air cooling/water cooling;
Operating status: working mode can work continuously at full load for a long time;
Protection mode: phase loss, overheating, overcurrent, short circuit, undervoltage, overvoltage protection;
Specification:The special specifications custom-made according to the customersHardware plating power supply:
Model
Output current(A)
Output Voltage(V)
Power(KW)
Input current(A)
Output
Weight(kg)
Size(mm)
Cooling system:Air cooling
ZJ50012
500A
12V
6
10A
380V
25
420*480*170
ZJ100012
1000A
12V
12
20A
380V
40
450*550*320
ZJ150012
1500A
12V
24
30A
380V
50
510*550*320
ZJ200012
2000A
12V
24
40A
380V
70
510*580*680
ZJ250012
2500A
12V
30
50A
380V
80
520*620*920
ZJ300012
3000A
12V
36
60A
380V
120
510*620*920
ZJ400012
4000A
12V
48
80A
380V
120
510*580*1150
ZJ500012
5000A
12V
60
100A
380V
150
510*580*1150
ZJ600012
6000A
12V
72
120A
380V
180
530*630*1620
ZJ800012
8000A
12V
96
160A
380V
300
650*900*1650
ZJ1000012
10000A
12V
120
200A
380V
400
650*900*1650
Cooling system:Water cooling
ZJ200015
2000A
15V
30
50A
380V
60
400*520*630
ZJ300015
3000A
15V
45
75A
380V
60
400*520*630
ZJ400015
4000A
15V
6075
100A
380V
100
450*520*920
ZJ500015
5000A
15V
90
125A
380V
120
500*620*1150
ZJ600015
6000A
15V
120
150A
380V
130
500*620*1150
ZJ800015
8000A
15V
120
200A
380V
180
500*670*1450
ZJ1000012
10000A
12V
144
200A
380V
250
800*1350*1500
ZJ2000012
12000A
12V
180
240A
380V
300
800*1350*1500
ZJ1500012
15000A
12V
360
300A
380V
350
800*1350*1500
ZJ1800012
18000A
20V
300
600A
380V
350
800*1350*1980
ZJ2500012
25000A
12V
360
500A
380V
400
800*1350*1980
ZJ3000012
30000A
12V
360
600A
380V
450
800*1350*1350
ZJ3000018
10000A
12V
180
300A
380V
250
800*1350*1500
ZJ1500018
15000A
18V
270
450A
380V
350
800*350*1500
ZJ1800018
18000A
18V
324
540A
380V
350
800*1350*1980
ZJ2000018
20000A
18V
360
600A
380V
400
800*1350*1980
Features:
●Strong coating density: Improve the bonding force, which is conducive to the firm bond between the substrate and the coating, and is beneficial to obtain the alloy coating with stable composition.
●Fast deposition speed: reduce porosity, the formation speed of crystal nucleus is faster than the growth speed, which promotes the refinement of crystal nucleus. Improve the coverage and dispersion ability, alleviate the defects of "scorching" and "dendritic" deposition on the protruding parts of complicated parts due to excessive consumption of deposited ions, and save raw materials.
●High hardness and good wear resistance: improve the mechanical and physical properties of the coating, such as increasing the density, reducing the surface resistance and volume resistance, and improving the toughness, wear resistance and corrosion resistance. Reduce the internal stress of the coating, improve the crystal lattice defects, easily obtain a crack-free coating, and reduce additives.
What is electroplating rectifier for hard oxidation uesd for?
Mainly used: zinc plating, tin plating, nickel plating, chromium plating, cadmium plating, copper plating, lead plating, silver plating, gold plating, alloy plating, imitation gold plating, etc.;
it can also be used for oxidation, electrolysis, electrophoresis, electroforming, etc.