MODEL INDENTIFICATION:
MP - F - 20 - 45 - C - C - V - 3 - 5

1 2 3 4 5 6 7 8 9
| | | |
| --- | --- | --- |
| 1 | MODEL | MP/JM |
| 2 | MATERIAL | F - FRPP P- PVDF C-CFRPP |
| 3 | IN/OUTLET | 20-20*20 25-25*25 |
| 4 | POWER | 10-10W 20-20W 45-45W 65-65W 12-120W 26-260W |
| 5 | SPINDLE | C- CERAMIC |
| 6 | BEARING | C-CARBON S-SIC |
| 7 | RUBBER | N- NBR E- EPDM V- VITON |
| 8 | VOLTAGE | 1 -110V 2 -220V/240V 3 -220V/380V 4 -SPECIAL |
| 9 | FERQUENCY | 5 -50HZ 6 -60HZ |
What is a MP series magnetic drive pump?
1.The MP series magnetic circulating pump is equipped with magnetic materials on the connecting shaft and the impeller respectively to attract and couple each other.
It does not need to be equipped with a traditional mechanical shaft seal; It is a new type of circulating pump.
There are many models of MPmagnetic transfer pumps, from extremely small to large, which are suitable for various industrial systems and programs. Its reliable performance and superior performance enjoy a high reputation.  
The magnetic drive circulating pump is designed without shaft seal, which completely avoids the defect of corrosion after corrosion caused by liquid leakage in traditional mechanical shaft seal pumps.
It is the most ideal liquid transfer pump for industrial equipment.
Application:

The Mp series magnetic pump is a small magnetic pump, widely used in electroplating, coating, sewage treatment, electrophoresis zhi paint, pearl nickel plating, chemical industry, metal industry, pollution control with small filter mainly involves continuous plating, electroplating, painting Sewage treatment, dosing of acid and alkali, circulation, etc It is used for the transportation of acid and alkali media with no leakage characteristics.
1: Electroplating industry: circulating filtration of various electroplating solutions.
2: Etching of circuit boards, transporting chemical liquids during semiconductor production.
3: Water treatment: cleaning ion exchange resin, pure water production equipment.
4: Pollution control: Add sewage treatment chemicals to the liquid tank, collect and transport waste liquid, and waste gas absorption equipment.
5: Metal industry: Alumina film processing equipment, wire drawing, degreasing and pickling in steel rolling: degreasing and washing treatment before vehicle painting, production of titanium oxide, rare earth elements, etc.
6: Chemical industry: Sodium carbonate chemical industry, chemical fertilizer production, gas absorption tower reaction liquid circulation, oil refining (sulfuric acid), waste acid recovery and reuse system, strong acid transportation between chemical plants and transportation vehicles.
What are the advantages:
1. Outstanding Acid /Alkaline resistance capability:3 types of pump body material : FRPP,CFRPP,PVDF;
FRPP material can resist temperature up to 75℃,

PVDF material can resist temperature up to 90℃;
2. Due to the unique of bearing ,while the pump operating is closed;
3. Corrosion resisting:
The parts of the pump spindle can be made from ceramic and SIC;
The ceramic spindle is generally applied for low corrosion liquid;
The SIC spindle is excellent for high corrosion liquid;
4. Impeller and magnet capsule, although the pump dry-run, the temperature wont rise up tremendously to avoid pump damaged
5. The motor is equipped with temperature protection which avoids motor damaged due to high temperature caused by overload;

We have different motor brands of supply for your needs, for example"QUCHI,TECO,ABB";
6.The magnetic drive sealless pump MP series are highly recommeded for use in various production processes,such as filtering, PCB,spraying,washing,plating,chemical transfer / blending and etching in surface treatment applications;
7.Can be used with chemical filter housing;
8.All products are manufacturer in accordance with ISO9001:2015 production standard to assure best quality and are complier with CE certificate,Production&sales intellectual property management system certification;
NEW MODEL
OLD MODEL
Flange / Thread
50HZ
60HZ
POWER(KW)
IN/OUTLET(mm)
Max. Head(m)
Max.Capacity(m3/h)
Max.Head(m)
Max.Capacity(m3/h)
JM-2010
MP-10RM
20*20
2
1.1
3.3
1.5
0.01
JM-2020
MP-20RM
20*20
3
1.6
5
1.7
0.02
JM-2045
mp-30RM
20*20
3.8
1.9
5.1
2.3
0.045
JM-2065
MP-40RM
20*20
4.5
2.7
6.8
3.2
0.065
IM-25120
MP-55RM
25*25
5.6
3.6
8.1
4
0.12
JM-25150
MP-70RM
25*25
6.9
5.1
9.4
5.9
0.15
JM-25260
MP-100RM
25*25
8.8
7.2
13.7
7.2
0.26
Performance Curve: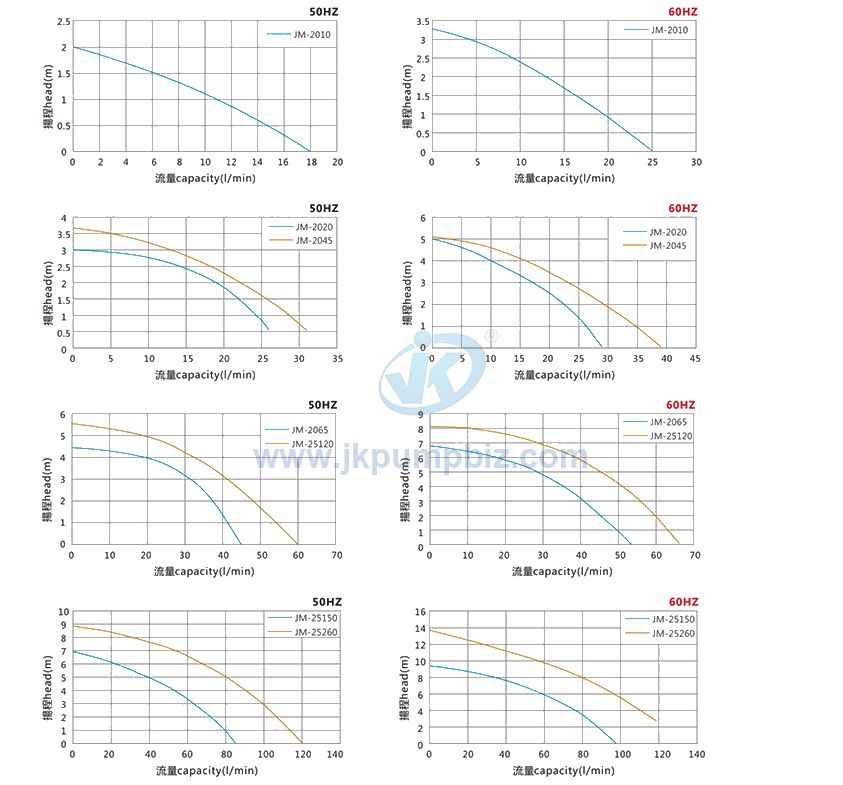 Dimension :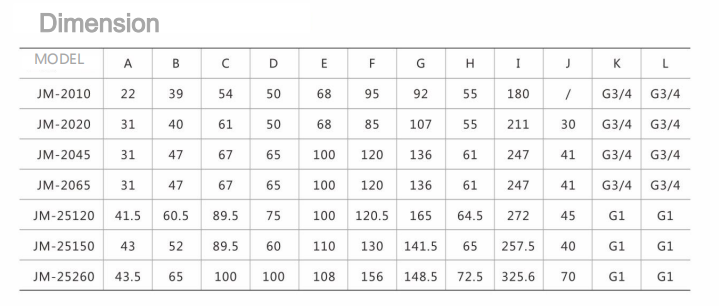 | | | | | | |
| --- | --- | --- | --- | --- | --- |
| Item | Description | Material | Item | Description | Material |
| 1 | Front casing | FRPP/PVDF | 3 | Spindle | CERAMIC |
| 1-1 | Bearing | CFRPP/SIC | 4 | Rear Casing | FRPP/CFRPP/PVDF |
| 1-2 | O-ring | EPDM/VITON | 5 | Retainer Ring | SUS304 |
| 2 | Impeller | FRPP/CFRPP/PVDF | 6 | O-ring | EPDM/VITON |
| 2-1 | Mouth Ring | SIC | 7 | Drive Magnetic | ND-FE-B |
| 2-2 | Bearing | CARBON/SIC | 8 | Motor | FC/AL |
Magnetic drive pump MP(JM) series Features:

1. Outstanding Acid /Alkaline resistance capability:
3 types of pump body material : FRPP,CFRPP,PVDF;
FRPP material can resist temperature up to 75℃,

PVDF material can resist temperature up to 90℃;
2. Due to the unique of bearing ,while the pump operating is closed;
3. Corrosion resisting:
The parts of the pump spindle can be made from ceramic and SIC;
The ceramic spindle is generally applied for low corrosion liquid;
The SIC spindle is excellent for high corrosion liquid;
4. Impeller and magnet capsule, although the pump dry-run, the temperature wont rise up tremendously to avoid pump damaged
5. The motor is equipped with temperature protection which avoids motor damaged due to high temperature caused by overload;

We have different motor brands of supply for your needs, for example"QUCHI,TECO,ABB";
6.The magnetic drive sealless pump MP series are highly recommeded for use in various production processes,such as filtering, PCB,spraying,washing,plating,chemical transfer / blending and etching in surface treatment applications;
7.Can be used with chemical filter housing;
8.All products are manufacturer in accordance with ISO9001:2015 production standard to assure best quality and are complier with CE certificate,Production&sales intellectual property management system certification;
The magnetic drive sealless pump MP series are highly recommeded for use in various production processes,such as filtering, PCB,spraying,washing,plating,chemical transfer / blending ,and etching in surface treatment applications;