Model Indentification:
MG - F - 45 - 2 - C - C - V - 5

1 2 3 4 5 6 7 8
| | | |
| --- | --- | --- |
| 1 | MODEL | MG |
| 2 | MATERIAL | F - FRPP P- PVDF C -CFRPP |
| 3 | IN/OUTLET | 44-40*40 45-40*50 56-50*65 66-65*65 |
| 4 | POWER | 0-½HP; 1-1HP; 2-2HP; 3-3HP; 5-5HP; |
| 5 | SPINDLE | C- CERAMIC S -SIC |
| 6 | BEARING | C-CARBON S-SIC T-Ti |
| 7 | RUBBER | E- EPDM V- VITON |
| 8 | FERQUENCY | 5 -50HZ 6 -60HZ |
| 9 | VOLTAGE | 220/240V 220/380V 415V |
what are the run drive ability magnetic drive pump-MG series advantges:
Look behind the scenes,see how JK has reconfigured nearly every part of our MG series new launch magnetic drive pumps to enhance functionality and reduce your repair and project management expensens.
1.The magnet drive pump -MG series is designed and developed by our company and used in water treatment,surface treatment &chemical processing. After 1 year of repeated testing, it was launched recently.
The magnetic drive sealless pump- MG Series has been engineered to meet the most severe operating conditions;30% energy saving;
2.The material of pumps body has 3 kinds which are FRPP,PVDF,CFRPP;
3.Max. discharge capacity: 1200L/min and below;Unique internal design and robust construction provides for better handling of abnormal operating conditions;
4.Even better dry -running resistance and efficiency than old model;
5.Chemical -resistant pump with Run-Dry capability;
6.Due to the unique impeller bearing housing design,even the pump dry-running ,the temperature inside pump head won't easily increase to prevent pump from damaged &jam;
7.The magnetic drive chemical pump MG Series pumps are highly recommended for use in various industries processes such as filtering, spraying, washing, plating, chemical transfer/blending, and lead frame etching applications;
8.The motor is equipped with temperature protection which avoids motor damaged due to high temperature caused by overload;
9.The motor shaft is designed and inside from intermally;We have different motor brands of choice to your needs,for example "QUCHI,TECO" ;
What is a magnetic drive pump?
Magnetic drive pumps, also known as magnetic coupled pumps, various from the traditional pumping style because the electric motor (the driver) is coupled to the pump by magnetic means rather than by a direct mechanical shaft. The pump works via a drive magnet that eliminates any shaft sealing required by the pump.
Chemical- resistant magnetic drive pump force is suitable for flammable, explosive, toxic, and high-risk media. It has the advantages of wide corrosion resistance, high efficiency, safe and reliable shaft connection structure, and convenient disassembly. It can be pumped without liquid filling, and the shaft produced by pump operation .The radial force and the radial force are supported by rolling bearings and sliding bearings respectively, so it runs quietly. It is a high-tech and durable product that truly integrates environmental protection and energy saving. It has strong corrosion resistance, good wear resistance and high mechanical strength. Reasonable design, compact structure, reliable performance, convenient use and maintenance, high efficiency, and energy saving.
Magnetic drive pump application of petroleum, chemical industry, alkali making, smelting, rare earth, pesticides, dyes, medicine, scientific research institutions, national defense industry and other production processes that are volatile, flammable, explosive, toxic, harmful and other high-risk media transfer.
Precautions for the selection of magnetic pump?
For the selection of magnetic pump, you need to confirm the parameters of the conveyed medium, flow and head, and you need to understand the information such as industrial parameters.
For example, the nature of the conveying solution, the concentration of the medium, the specific gravity, the temperature, the flow, the head, the power, and the diameter of the required working conditions.
Selection of the material of the magnetic pump body
The material is mainly matched according to the characteristics of the medium. Generally, there are two corrosion-resistant materials, FRPP and PVDF.
What are the basis for determining the type of magnetic drive pump?
First, the choice of raw materials. The quality of the raw materials will greatly affect the service life of the magnetic drive pump. Secondly, the magnetic drive pump is a very important component that drives the magnet and the magnetic steel, and the price difference will be relatively different. Pay special attention to media with a heavy specific gravity.
MODEL
IN/OUTLET(mm)
50HZ
60HZ
MOTOR OUTPUT
Temperature
MAX.HEAD(m)
MAX.CAP(L/min)
MAX.HEAD(m)
MAX.CAP(L/min)
KW
HP
FRPP
PVDF
MG-440
40*40
12.8
290
12
260
0.37
½
75℃
100℃
MG-441
40*40
18.5
360
19
330
0.75
1
75℃
100℃
MG-452
40*50
23
430
23
400
1.5
2
75℃
100℃
MG-453
40*50
24.8
530
24
530
2.2
3
75℃
100℃
MG-455
40*50
30
640
31.5
660
3.75
5
75℃
100℃
MG-565
50*65
29.5
830
28
830
3.75
5
75℃
100℃
MG-663
65*65
17
1050
18
1050
2.2
3
75℃
100℃
MG-665
65*65
21
1260
23
1260
3.75
5
75℃
100℃
Performance Curve: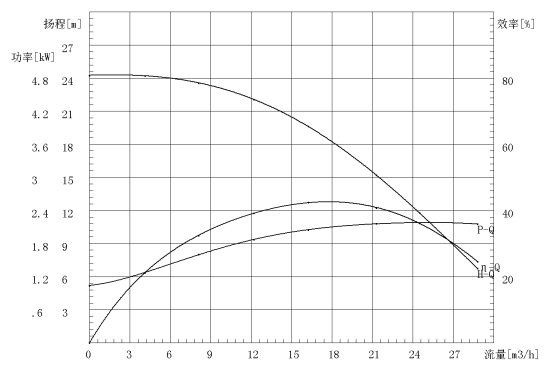 1.The magnet drive pump -MG series is designed and developed by our company and used in water treatment,surface treatment &chemical processing. After 1 year of repeated testing, it was launched recently. The MG Series has been engineered to meet the most severe operating conditions;30% energy saving;
2.The material of pumps body has 3 kinds which are FRPP,PVDF,CFRPP;
3.Max. discharge capacity: 1200L/min and below;Unique internal design and robust construction provides for better handling of abnormal operating conditions;
4.Even better dry -running resistance and efficiency than old model;
5.Chemical -resistant pump with Run-Dry capability;
6.Due to the unique impeller bearing housing design,even the pump dry-running ,the temperature inside pump head won't easily increase to prevent pump from damaged &jam;
7.The magnetic drive chemical pump MG Series pumps are highly recommended for use in various industries processes such as filtering, spraying, washing, plating, chemical transfer/blending, and lead frame etching applications;
8.The motor is equipped with temperature protection which avoids motor damaged due to high temperature caused by overload;
9.The motor shaft is designed and inside from intermally;We have different motor brands of choice to your needs,for example "QUCHI,TECO" ;
Our Pumps are specifically designed for Waste Water Treatment, Chemical Industry, Electroplating Industry, Scrubber, City Water Supply and Metal Industry;