MGS F 40 01 2 E B L S S S 5
1 2 3 4 5 6 7 8 9 10 11 12
1
MODEL
MGS
2
MATERIAL
F - FRPP C-CFRPP P- PVDF
3
IN/OUTLET
40-1.5" 50-2 "
4
POWER
01-1HP ,02-2HP, 03-3HP, 05-5HP
5
POLE
2-2P 4-4P
6
RUBBBER
N-NBR E-EPDN V-VITON
7
A-WITH CHECK VALVE(INLET HIGHER THAN LIQUID LEVEL)B-NON CHECK VALVE(INLET LOW THAN LIQUID LEVEL)
8
L-LOW HEAD H-HIGH HEAD
9
STATIONARY RING
C-CERAMIC S-SIC
10
ROTATIONAL RING
C-CARBON S-SIC
11
SPRING
SUS316
12
FREQUENCY
5-50HZ 6-60HZ
Detailed introduction of new launched self priming pump run dry-MGS series:
Corrosion-resistant acid and alkali self-priming pumps can be divided into: PP plastic self-priming pump, fluoroplastic self priming pump, stainless steel self-priming pump and electroplating sewage self priming pump for electroplating sewage. The working principle of acid and alkali-resistant self-priming pump is for starting, the pump body must be filled with liquid. After starting, the impeller rotates at a high speed to make the water in the impeller channel flow to the volute. A vacuum is formed at the inlet and the water inlet check door is opened. The air in the suction pipe enters the pump and passes through the impeller reaching the outer edge. The corrosion-resistant self-priming pump is suitable for lifting and conveying of industrial sewage treatment, acid unloading, electroplating liquid circulation, supporting filters, chillers, etc.
In order to help customers solve various pump problems, JK's has been committed to research and developing new products. JKPUMPS'ss horizontal self priming process pump -MGS series is an idling-resistant self priming pump successfully developed to solve the tradisional problem face by self priming pumps such as pump shaft shaft seal damage due to idling. Equipped with a cooling device to cool and lubricate the shaft seal to protect the shaft seal from burning out due to high temperature generated by idling, which greatly reduces the maintenance cost of the pump. An improve mechanical seal design as well some enhancement on the self-suction, the suction range can reach up to 5 meters. Quick connection design, convenient disassembly and assembly. This is a very practical industrial sewage lifting pump.
SELF PRIMING PUMP -MGS series Features:
1.The material of pump body made from FRPP,CFRPP or PVDF suitable for chemical and corrosive environment;
FRPP and CFRPP material are temperature resistance up to 75℃;
PVDF material is temperature resistance up to 100℃;
2.The self priming centrifugal pump MGS Series of magnetically driven non-metallic pumps offer an innovative true self-priming design with no mechanical seals;
3.The MGS series proven non-contact dry-run capability enabling them to withstand the rigors of abnormal operating conditions.;
4.The MGS Series order superior repeatable self-priming performance. Beside dry run capabili ;
MGS series have a suction depth of 5 meter compare to other normal pump;
5.Depending on customers's needs, cooling circulated tube can be assembled. The liquid inside the pump circulates and cools down the shaft seal especially during dry-running;
6.The self priming water pump -MGS series best applicable to acid and alkaline chemical liquids, all polluted water treatment & etc;
SPECIFICATION:
MODEL
IN/OUT(mm)
POWER(HP)
POLE
50HZ
60HZ
MAX HEAD(m)
MAX FLOW(L/min)
MAX HEAD(m)
MAX FLOW(L/min)
MGS-401
40*40
1
2
8.2
236
10
270
MGS-402
40*40
2
2
17.4
360
21
320
MGS-503
50*50
3
2
21.5
380
21.6
340
MGS-505
50*50
5
2
25
500
28
520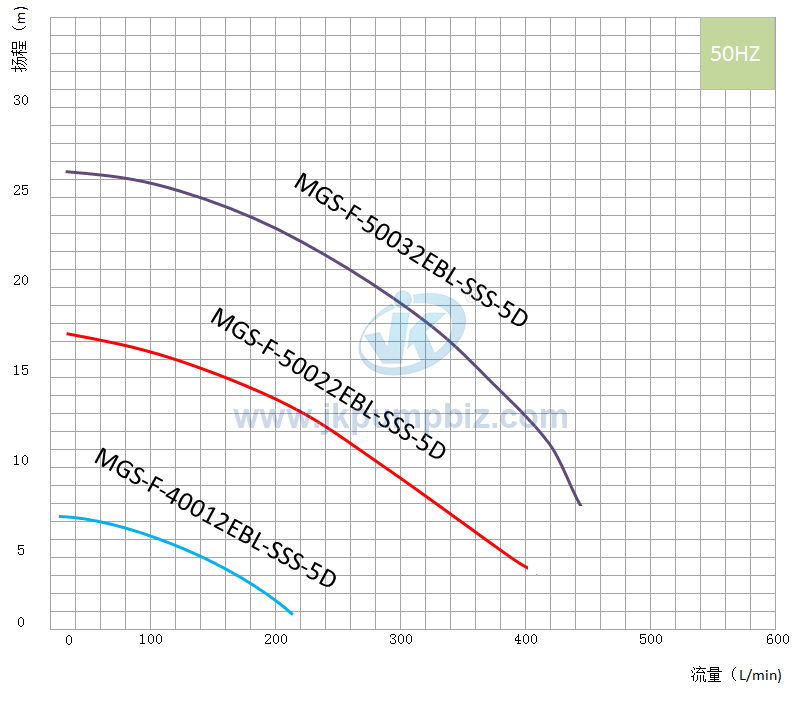 SELF PRIMING PUMP -MGS series Features:
1.The material of pump body made from FRPP,CFRPP or PVDF suitable for chemical and corrosive environment;
FRPP and CFRPP material are temperature resistance up to 75℃;
PVDF material is temperature resistance up to 100℃;
2.The self priming centrifugal pump MGS Series of magnetically driven non-metallic pumps offer an innovative true self-priming design with no mechanical seals;
3.The MGS series proven non-contact dry-run capability enabling them to withstand the rigors of abnormal operating conditions.;
4.The MGS Series order superior repeatable self-priming performance. Beside dry run capabili ;
MGS series have a suction depth of 5 meter compare to other normal pump;
5.Depending on customers's needs, cooling circulated tube can be assembled. The liquid inside the pump circulates and cools down the shaft seal especially during dry-running;
6.The self priming water pump -MGS series best applicable to acid and alkaline chemical liquids, all polluted water treatment & etc;
The self priming water pump -MGS series best applicable to acid and alkaline chemical liquids, all polluted water treatment & etc;