MODEL INDENTIFICATION:
JKD - 40 - SK - 1 - 5 - V - F
1 2 3 4 5 6 7
1
MODEL
JKD
2
IN/OUTLET
40-1-1½", 50-2", 65-2-1½", 80-3",100-4"
3
SPECIFIC GRAVITY
SK-1:1 SP-1:4
4
POWER
1-1HP, 2-2HP, 3-3HP, 5-5HP, 7.5-7.7HP, 10-10HP, 15-15HP
5
FREQUENNCY
5-50HZ 6-60HZ
6
RUBBER
E-EPDM V-VITON
7
MATERIAL
F-FRPP C-CFRPP P-PVDF
8
MOTOR SPACER IS FRPP
Vertical alkaline resistant pump detailed introduction:
Acid and alkali resistant pump, also known as vertical alkaline resistant pump, is a pump made of special materials. It is widely used in surface treatment, electroplating, PCB, environmental protection equipment and other industries.
The acidic chemical vertical pump-JKD series product is suitable for transporting various corrosive media under the temperature condition of -20℃~+120℃. The overflow part is made of plastic alloy (FRPP,PVDF,and CFRPP materials) after reasonable formulation, Molded and processed, the vertical pump combines the advantages of a variety of plastics, has strong corrosion resistance, and has the advantages of high mechanical strength, no aging, and no toxin decomposition. It is an ideal equipment for conveying various strong and weak acids.
Pump material is used in the electroplating industry for the transmission of various acid and alkaline liquids; in the PBC industry in the PCB etching equipment; in the environmental protection industry in the waste gas and wastewater treatment. The materials used in the pump body are: FRPP, CFRPP,and PVDF materials, which have high temperature resistance and corrosion resistance.
The main reason why most acid and alkali resistant pumps can be acid resistant is the material of the pump. Generally, acid and alkali resistant pumps use non-metallic materials as the material of the pump's flow parts, such as "polyethylene, polypropylene, polyfluoroethylene propylene" Etc.", among them, polyperfluoroethylene propylene is one of the best acid-resistant materials, which can basically resist the corrosion of any acid medium, and is called the plastic king.
O-RING materials are: NBR, EPDM, VITON.
Feature:
1. The vertical pump - JKD series manufacturer from FRPP, CFRPP, PVDF can resist most of the chemical properties, acid and alkali resistance.
2. It is suitable for various acid and alkali liquid circulation, cooling, spray washing equipment, waste gas tower, etching machine, waste water treatment.
3. It can be used idling and will never be damaged due to idling.
4. There is a dry shaft seal design to protect the motor from damage to the bearing in the acid gas.
5. It is suitable for circulating transportation of electroless nickel, chemical copper and various special electroplating solutions.
6. Can be used in conjunction with the filter.
Application:
Vertical pumps are suitable for a wide range of are as:
1. Wastewater treatment of chemical liquid, recycling or transportation process, electroplating industry, chemical industry, leather, dyeing and finishing;
2. chemical liquid, waste liquid treatment, acid, industrial liquid and use for emergency, backup or filtration;
3. printed circuit boards, semiconductors, electroplating, metal surface finishing, photofinishing, water and wastewater treatment;
MODEL
S.G
IN(mm)
OUTLET(mm)
50HZ
60HZ
POWER
HEAD(m)
FLOW(m3/h)
HEAD(m)
FLOW(m3/h)
HP
KW
JKD-40SK-1
1.1
50
40
14.5
16.8
12.5
14.4
1
0.75
JKD-40SK-2
1.1
50
40
18
24
22
19.8
2
1.5
JKD-40SK-3
1.1
50
40
22
26.4
26.2
26.4
3
2.2
JKD-50SK-3
1.1
65
50
21.8
31.8
24
31.2
3
2.2
JKD-50SK-5
1.1
65
50
31.8
33.6
36
37.2
5
3.75
JKD-65SK-5
1.1
80
65
28.8
33
28.5
39
5
3.75
JKD-65SK-7.5
1.1
80
65
34
43.2
36.5
55.2
7.5
5.5
JKD-65SK-10
1.1
80
65
37.5
51.6
39.5
62.4
10
7.5
JKD-100SK-7.5
1.1
100
100
31
75
33.2
75
7.5
5.5
JKD-100SK-10
1.1
100
100
33
81
35
90
10
7.5
JKD-100SK-15
1.1
100
100
35
102
35.5
112.8
15
11
JKD-40SP-3
1.4
50
40
21.8
24
22.5
20.4
3
2.2
JKD-50SP-3
1.4
65
50
20
31.2
20.2
26.4
3
2.2
JKD-50SP-5
1.4
65
50
29
36
32.3
30
5
3.75
JKD-65SP-5
1.4
80
65
26.7
31.2
26.7
32.4
5
3.75
JKD-65SP-7.5
1.4
80
65
31.6
43.2
35
43.2
7.5
5.5
JKD-65SP-10
1.4
80
65
33
43.2
38
45
10
7.5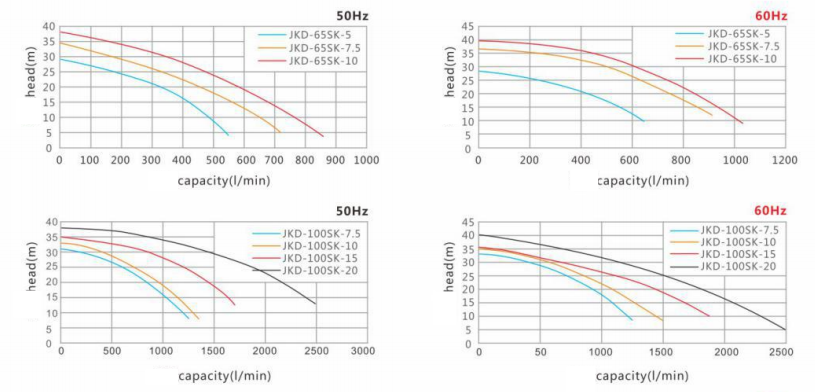 VERTICAL PUMP -JKD SERIES FEATURES:
1.The JKD series vertical pump are manufactured from higher grade raw material and can be define to FRPP,CFRPP,PVDF for customer selection;
2.JKD series widely used in high corrosive environment & acidic chemical process such as etching,cooling circulating,spray cleaning equipment,exhaust tower,waste water treatment & plating;
3.Vertical pump -JKD specialty :
· Resistance to high heat and corrosion;
· The internal design of the pump enable run dry without damaging the internal pump head;
· Special design dry vapor seal to protect and prevent chemical fume from attacking the motor internal parts to prolong the motor lifespan;
· Special design motor spacer from FRPP material to reduce the motor weight and protect motor from chemical attacked;
4.It is designed to installed in and outside tank and can be fitted together with filter system;
5.For corrosive environment, it is recommended to use Titanium bolt and nuts and Epoxy paint on motor body to prolong motor lifespan;
6.Max Operating Temperature: FRPP/CFRPP:75℃; PVDF:90℃;
7.Supply of different brands of motors:QUCHI,TECO and ABB;
Application: Environmental protection water treatment, surface treatment, printed circuit board, continuous electroplating.LED. solar energy;