| | | |
| --- | --- | --- |
| Item | Description | Material |
| 1 | Model | QBY4 |
| 2 | In/Outlet | 06=1/4" 10=3/8" 15=1/2" 20=3/4" 25=1" 40=1.5" 50=2" 80=3"100=4"125=5" |
| 3 | Center Black | AL-Aluminum PP-Polypropylene SS-Stainless Steel |
| 4 | Pump Body | PP-Polypropylene KV -PVDF PM-POM AL-Aluminum SS-Stainless Steel 304 LL-Stainless Steel 316 AC-Cast Iron TF -PTFE |
| 5 | Diaphragm | TF -PTFE ST -Santoprene HY-Polyether Rubber VT-VITON BN-NBR EP-EPDM GE-Geolast PU-Polyurethane |
| 6 | Valve Ball | TF -PTFE ST -Santoprene HY-Polyether Rubber VT-VITON BN-NBR EP-EPDM SS-Stainless Steel 304 LL-Stainless Steel 316 CM-Ceramic |
| 7 | Valve Seat | TF -PTFE ST -Santoprene HY-Polyether Rubber VT-VITON BN-NBR EP-EPDM SS-Stainless Steel 304 LL-Stainless Steel 316 PP-Polypropylene |
what makes an QBY diaphragm pump special?
Pneumatic one-way diaphragm pump has 6 advantages:
Reliable quality, long service life, low noise, low vibration, never crashing, fine workmanship, etc. It can pump flowing liquid and transport some difficult-to-flow media. It has self-priming pumps, Many advantages of conveying machinery such as submersible pumps, canned motor pumps, mud pumps and impurity pumps.
1. The flow is spacious, the passing performance is good, and the maximum particle diameter allowed is 10 mm. When pumping mud and impurities, there is little wear on the pump;
2. The diaphragm pump does not need to be filled with water, the suction stroke is up to 8.8 meters, the head is up to 84 meters, and the outlet pressure is ≧8.4bar;
3. The air operated diaphragm pump has no rotating parts, no shaft seal, and the pumped medium such as the diaphragm is completely separated from the moving parts of the pump and the workpiece medium, and the conveyed medium will not leak out. Therefore, when pumping toxic, volatile or corrosive media, it will not cause environmental pollution and endanger personal safety;
4. The head and flow can be adjusted steplessly through the valve opening (air pressure adjustment is between 1-8.4bar);
5. Can be immersed in the medium to work;
6. No need to use electricity, it is safe and reliable to use in flammable and explosive places;
7. Pneumatic diaphragm pump has simple structure, few wearing parts, simple structure, convenient installation and maintenance. The medium conveyed by the pump will not touch the moving parts such as the valve, linkage, etc., unlike other types of pumps due to rotor, piston, The wear of gears, blades and other components gradually decreases performance;
8. Convenient to use, reliable in work, just simply open and close the gas valve when starting and stopping, even if the pump runs without medium for a long time due to unexpected circumstances or suddenly stops the pump, it will not be damaged. Once overloaded, the pump will stop automatically , With self-protection performance, when the load returns to normal, it can automatically start operation;
9. The pneumatic diaphragm pump does not need to be lubricated with oil, even if it is idling, it will not have any effect on the pump, which is a major feature of the pump;
10. It can transport relatively viscous liquids (viscosity below 25000 centipoise).
How does an air operated double diaphragm pump work?
Because the diaphragm pump has the above characteristics, the pneumatic diaphragm pump is gradually invading the market of other pumps since its birth and occupying a part of it. For example: air operated diaphragm pumps in the painting and ceramic industries have an absolute dominant position, while in some other industries, such as environmental protection, wastewater treatment, construction, sewage, and fine chemicals are expanding its market share, and other pumps are not available. Alternative status.
The pneumatic diaphragm pump uses compressed gas as the power source, and can be exhausted for all kinds of corrosive liquids, liquids with particles, high viscosity, volatile, flammable, and highly toxic liquids. The pneumatic diaphragm pump has four materials: plastic, aluminum alloy, cast iron, and stainless steel. The pneumatic diaphragm pump adopts nitrile rubber, neoprene rubber, fluorine rubber, polytetrafluoroethylene, polyhexaethylene according to different liquid media. To meet the needs of different users. It is installed in various special occasions and used to pump various media that cannot be pumped by conventional pumps, and has achieved satisfactory results.
1. Since gas is used as power, the flow rate is actively adjusted with the change of back pressure (outlet resistance), which is suitable for medium and high viscosity fluids. The operating point of the centrifugal pump is set based on water. If it is used for a fluid with a slightly higher viscosity, it must be equipped with a reducer or a frequency converter, which greatly increases the cost, and the same is true for gear pumps.
2. It is reliable and low-cost to use pneumatic pumps in flammable and explosive environments, such as the transportation of fuel, gunpowder and explosives, because:
– It is impossible to produce sparks after grounding;
– There is no heat generation during work, and the machine will not overheat;
– The fluid will not overheat, because the pneumatic diaphragm pump has the least agitation to the fluid.
3. In the poor center of the construction site, such as construction site, industrial and mining wastewater discharge, due to the large amount of impurities in the sewage and the complex composition, the pipeline is easy to be blocked, which creates an environment with excessive load on the electric pump, and the motor is easily damaged by heat. The pneumatic diaphragm pump can pass particles and has an adjustable flow rate, and will automatically stop when the pipeline is blocked.
4. In addition, the pneumatic diaphragm pump is small in size, easy to move, does not require foundation, has a small footprint, and is easy and economical to install. Can be used as a mobile material delivery pump.
5. In the treatment of hazardous and corrosive materials, the diaphragm pump can completely isolate the materials from the outside world.
6. Or in some experiments, ensure that no impurities contaminate the raw materials.
7. It can be used to transport fluids with relatively unstable chemical properties, such as photosensitive materials, flocculants, etc. This is because the shear force of the diaphragm pump is low and the physical impact on the material is small.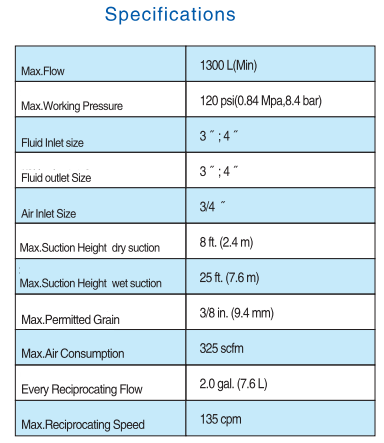 Features and advantages:
1.Light weight,Easy installation and maintenance;
2.Performs on -demand in remote locations;
3.Extremely portable for multi -locations;
4.Little air waste and pulsation, high capacity and performance;
5.Can run dry without pump damage;
6.No air lubrication necessary;
7.The fluid transport is extremely extensive,Can convey acid,alkali,strong organic solvents and other fluid;
8.High temperature resistant, corrosion resistant;
Appication Industry:

Chemical industry: acids, alkalis, solvents, suspended solids, dispersion systems.
Petrochemical industry: heavy oil, grease, mud, sludge, etc.
Coating industry: resins, solvents, colorants, paints, etc.
Daily chemical industry: detergents, shampoos, lotions, emulsions, hand creams, surfactants.
Ceramic industry: mud, porcelain slurry, lime slurry, clay slurry.
Mining industry: coal slurry, magma, mud, mortar, lubricants, etc.
Water treatment: lime slurry, soft sediment, sewage, chemicals, waste water.
Food industry: liquid semi-solid, chocolate, brine, vinegar, syrup, rape oil, soybean oil, honey.
Beverage industry: yeast, syrup, concentrate, gas-liquid mixture, wine, fruit juice, corn syrup, etc.
Pharmaceutical industry: solvents, acids, alkalis, plant extracts, ointments and other pharmaceutical materials.
Paper industry: binders, resins, paints, inks, pigments, hydrogen peroxide, etc.
Electronics industry: solvents, electroplating solutions, cleaning solutions, nitric acid, waste acids, corrosive acids, polishing solutions.
Textile industry: dye chemicals, resins, glues, etc.
Construction industry: cement slurry, ceramic tile binder, rock slurry, ceiling finish, etc.
Automobile industry: polishing emulsion, oil, coolant, automobile primer, oil emulsion, varnish, varnish additives, degreasing liquid, paint, etc.
Furniture industry: adhesives, varnishes, dispersion systems, solvents, colorants, white wood glue, epoxy resins, starch adhesives.
Metallurgy, casting and dyeing industry: metal slurry, hydroxide and carbonized slurry, dust washing slurry, etc