MODEL INDENTIFICATION
| | | |
| --- | --- | --- |
| 1 | MODEL | JMX |
| 2 | MATERIAL | F - FRPP P- PVDF C -CFRPP E- ETFE A -PFA |
| 3 | IN/OUTLET | 25-25*25 44-40*40 45-40*50 |
| 4 | POWER | 0-1/2HP 1-1HP 2-2HP 3-3HP 5-5HP |
| 5 | SPINDLE | C- CERAMIC S -SSIC |
| 6 | BEARING | C-CARBON S-SSIC |
| 7 | O-RING | N- NBR E- EPDM V- VITON |
| 8 | FERQUENCY | 5 -50HZ 6 -60HZ |
High pressure magnetic drive pump -JMX series advantages:
1. Excellent corrosion resistance thermoplastic materials of pump body has 5 kinds ,including FRPP,CFRPP,PVDF.ETFE,PFA, one piece injection without welding ,with excellent corrosion resistance, high strength, and resistance to deformation and cracking.
2. No mechanical seal design, high precision" no bubbles, no leakage, and high efficiency".
3. The internal magnet uses high quality magnetic tiles, strong magnetic energy, durable, non-demagnetization, and strong stability.
4.The mag drive pumps applicable process: conveying and circulating liquids containing corrosive media, such as acid unloading, pickling, dosing, etching, etc. Pay special attention to the nature, temperature and specific gravity of the liquid.
5.The chemical-Resistant magnetic drive pump adopts high-end foreign brand motors,for example"QUCHI,TECO;using NSK stainless steel bearings, noiseless, stable operation; stainless steel 304 or 316 motor shaft, corrosion resistance, can be customized titanium shaft, strong acid worry-free; pure copper coil, the source of power, true Real materials; explosion-proof motors or even energy-efficiency motors can be customized.
6.The pump head of the magnetic drive pump and the motor foot mounted are integrally formed, which is stable and firm, does not produce vibration, prolongs the service life of the pump, and makes maintenance and disassembly more convenient.
7.Corrosion-resistant magnetic pump the new impeller and internal magnet are integrally formed to strengthen the impeller, improve efficiency, and extend the lifespan.
The impeller's internal magnetism adopts strong magnets, which is small in size, strong in magnetic force, and large in driving force without demagnetization.
8.Imported FRPP&PVDF raw material, its toughness, stretch ability, temperature resistance, corrosion resistance is good, the pump head does not crack; PTFE material, can withstand strong acid and alkali, high temperature; screws use stainless steel and titanium screws, long-term acid It is not easy to corrode in the atmosphere; it is more secure for the transportation of strong acid and alkaline liquids in the industries of battery, semiconductor, PCB board, electroplating, etc.
9.Magnetic drive, no shaft seal design, good sealing performance, will not cause chemical liquid leakage, suitable for the delivery of iron-free chemical liquids; the magnetic capsule uses high quality magnetic tiles, strong magnetic energy, durable, non-demagnetization.
10.Rich experience in mold opening and injection molding of corrosion-resistant magnetic pumps, strictly control the supply of raw materials, injection temperature, holding time, etc., to ensure that the integrated injection molding pump head has sufficient weight, no deformation, no cracking, and more durable.
11.The chemical-resistant magnetic pump processing strictly follows the standard operation and implements the 5S standard management; the production manager with more than 16 years of experience guides and trains. JKPUMPS have passed the performance test platform inspection.
12.Can be used with chemical filter housing;
SPECIFICATIONS:
MODEL
IN/OUT
POWER
50HZ
60HZ
MAX HEAD(m)
MAX FLOW(L/min)
MAX HEAD(m)
MAX FLOW(L/min)
JMX250
25*25
0.37
15.8
150
17
153
JMX251
25*25
0.75
22.8
150
22
153
JMX440
40*40
0.37
12.8
225
12.8
275
JMX441
40*40
0.75
17.6
260
16.8
275
JMX452
50*40
1.5
26.9
450
25
520
JMX452H
50*40
1.5
32
120
32
160
JMX453
50*40
2.2
31
520
30
520
JMX453H
50*40
2.2
35.8
310
37.5
260
Performance Curve: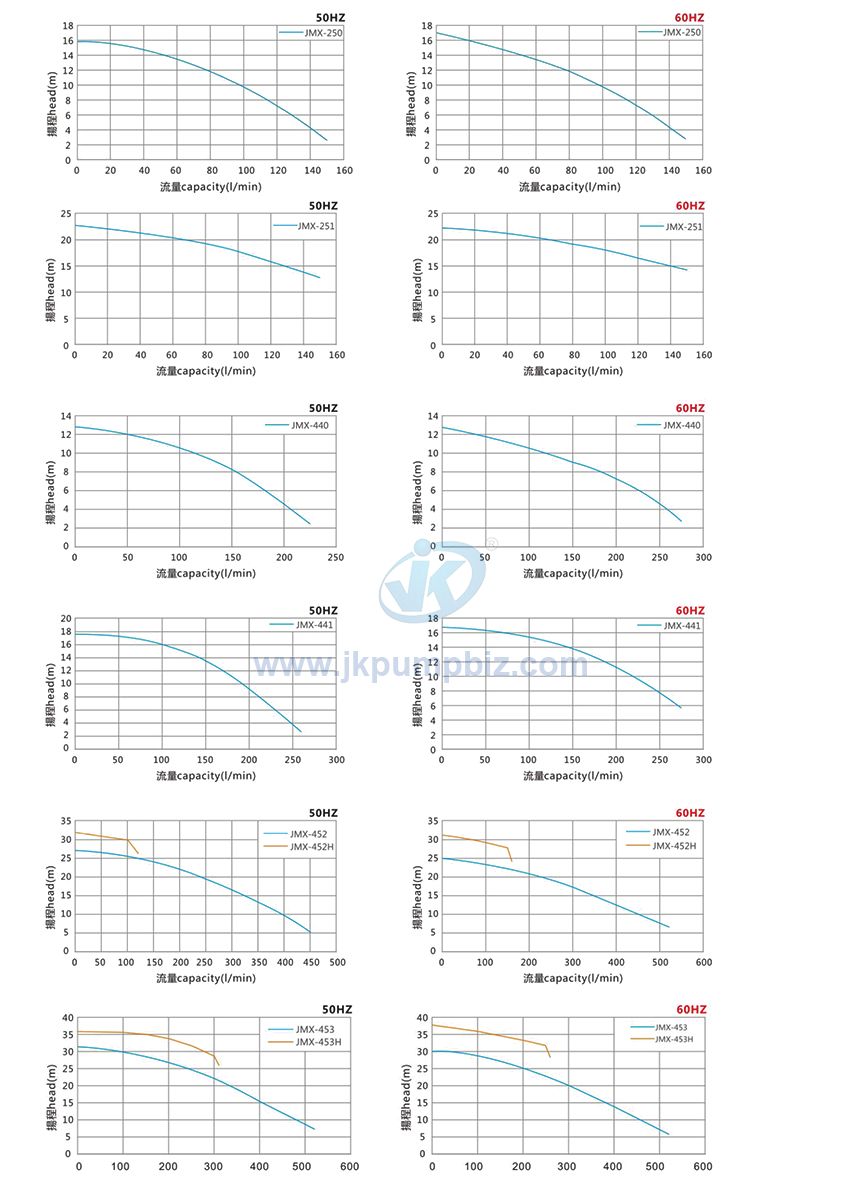 Dimension:
| | | | | | | | | | | | | |
| --- | --- | --- | --- | --- | --- | --- | --- | --- | --- | --- | --- | --- |
| MODEL | A | B | C | D | E | F | G | H | I | J | K | L |
| JMX-250 | 67 | 90 | 140 | 204 | 146 | 191 | 120 | 115 | 447 | 133 | Ф25 | Ф25 |
| JMX-251 | 67 | 90 | 140 | 204 | 146 | 191 | 120 | 115 | 559 | 133 | Ф25 | Ф25 |
| JMX-440 | 57 | 87 | 130 | 198 | 133 | 159 | 112 | 112 | 447 | 130 | Ф40 | Ф40 |
| JMX-442 | 70 | 102 | 140 | 215 | 108 | 192 | 130 | 112 | 512 | 130 | Ф40 | Ф40 |
| JMX-452 | 80 | 90 | 162 | 276 | 210 | 263 | 121 | 120.5 | 512 | 202 | Ф40 | Ф50 |
| JMX-452H | 80 | 90 | 162 | 276 | 210 | 263 | 121 | 120.5 | 512 | 202 | Ф40 | Ф50 |
| JMX-453 | 80 | 90 | 162 | 276 | 210 | 263 | 121 | 120.5 | 535 | 202 | Ф40 | Ф50 |
| JMX-453H | 80 | 90 | 162 | 276 | 210 | 263 | 121 | 120.5 | 535 | 202 | Ф40 | Ф50 |
Magnetic drive pump JMX series Features:

1. Outstanding Acid /Alkaline resisting capability:
Excellent corrosion resistance thermoplastic materials of pump body has 5 kinds ,including FRPP,CFRPP,PVDF.ETFE,PFA;
FRPP/CFRPP material can resist temperature up to 75℃,
PVDF/ETFE/PFA material can resist temperature up to 90℃;
2. Due to the unique impeller bearing housing design,even the pump dry-running,the temperature inside pump head won't easily increase to prevent pump for damaged &jam;
3. Corrosion resisting:seal-less and leaked proof design to ensure the safe transfer of chemicals;
The parts of the pump spindle can be made from ceramic and SIC;
The ceramic spindle is generally applied for low corrosion liquid;
The SIC spindle is excellent for high corrosion liquid;
4.One piece injection without welding "No leak, Durable and High Efficiency";
The pump body is seal completely to prevent liquid leakage and hence preventing pollution or corrosion problems caused by many traditional mechanical seal pump. Besides that, the pump's impeller and magnetic parts integrate well to avoid damage during high-speed rotation and high temperature. The integrated impeller and inner magnet also reduce the assembly risk and therefore increase the efficiency of the pump;
5. Impeller and magnet capsule,although the pump dry-running,the temperature cannot be get higher quickly to avoid pump be damaged seriously;
6.The motor is equipped with temperature protection which avoids motor damaged due to high temperature caused by overload;
The motor shaft is designed and inside from intermally;
We have different motor brands of choice to your needs,for example "QUCHI,TECO" ;
7.Easy to assembly and maintenance:Most of the pump's parts are moulded design for easy to assemble and maintain;
8. One piece injection frame :High corrosion-resistant,material made from FRPP/PVDF;
9. The magnetic drive chemical pump JMX series are highly recommended for use in various production processes,such as filtering, PCB,spraying,washing,plating,chemical transfer / blending ,and etching in surface treatment applications;
10.Can be used with chemical filter housing;
Our Pumps are specifically designed for Waste Water Treatment, Chemical Industry, Electroplating Industry, Scrubber, City Water Supply and Metal Industry;